Christopher Isherwood & Vedanta:
I Was a Camera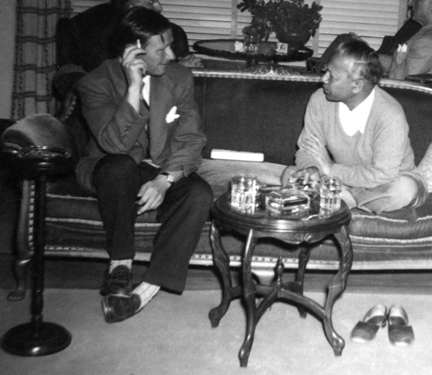 Picture: "Christopher Isherwood (left) & Swami Prabhavananda (right)
in the Green House Living Room:
Copyright

Vedanta Society of Southern California

All rights reserved,
TABLE OF CONTENTS
Since the original printing in American Vedantist, this article has been further researched and rewritten:
Introduction: Why Me? (6/6/2023)
1. Backstory (8/16/2021)
2. Swami Prabhavananda (4/8/2022)
3. The Monastery, Part 1 (6/6/2022) Appendix: The [Cinder]Ella Corbin Story (6/14/2023)
4. The Monastery, Part 2 (12/21/2021)
5. The Monastery, Part 3 - The Song of God (3/22/2022)
6. Post-Monastery: Lifestyle as a Lay Devotee (3/9/2022)
7. The Writer & Vedanta (6/26/2023) Appendix: Are We There Yet?
8. The Novelist & Vedanta Appendix: For Your Consideration: Jean Valjean (1/16/2023)
9. A Passage from India (2/14/2023)
10. This Time, It's [Even More] Personal (3/13/2023)
11. Approaching the Event Horizon (5/25/23)
ACKNOWLEDGEMENTS

Special Thanks to The Vedanta Society of Southern California, Swami Vedamritananda at Vedanta Press, The Vedanta Archives, John Schlenck of American Vedantist and his editorial team for their generous encouragement and for printing the first version of this piece in 2014, Katherine Bucknell and Sita Mitchell for stimulating and fruitful correspondences, Jon Monday for research, review, Google Alerts, and endless discussion…


& to Christopher Isherwood for spelling it all out.


Contact: jon@mondaymedia.org
Copyright mondayMEDIA. All rights reserved.